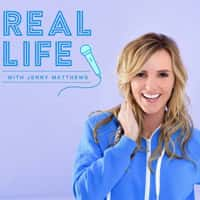 Jenny is an energetic DJ who has a positive attitude that is contagious! She loves being behind the mic playing the 80's to now tunes for Q listeners. When Jenny is not in the studio, she keeps busy by writing a monthly column for Her Life magazine and enjoys physical fitness. Jenny is married and mommy to Julianne and Miles. As a working mother, she knows how to balance work and home…she needs to let us in on her secret, don't you agree?
Hang out with Jenny weekdays from 6 pm to 10 pm
Be sure and check out Jenny's website www.jennymatthewsonair.com for her blog and podcast 'Real Life with Jenny Matthews' (also available on iTunes).
Keepin' it real about life, motherhood, pop-culture and everything in between!