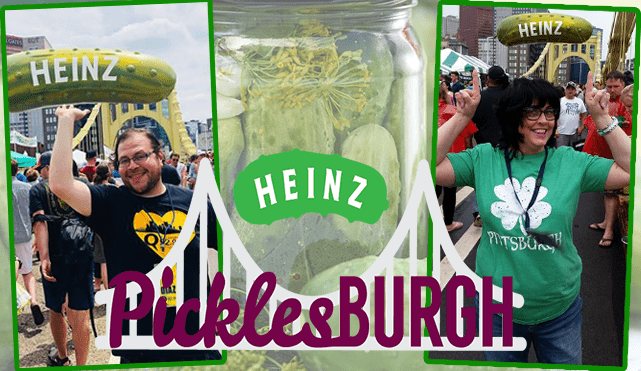 The flying pickle is back, and this year is bigger than ever!  Voted the #1 Specialty Food Festival by USA Today, Picklesburgh returns for the biggest, briniest celebration of all things pickled yet!
The festival will be doubled in size, bringing you more ways to enjoy everything from dill pickle ice cream to selfies with the 35′ flying pickle balloon.
Friday, July 26 | 12:00 – 10:00 p.m.
Saturday, July 27 | 12:00 – 10:00 p.m.
Sunday, July 28 | 12:00 – 6:00 p.m.
Free admission!
Pittsburgh Downtown Partnership's Picklesburgh is a culinary celebration that goes beyond the dill pickle to include international dishes, prepared foods and artisan cocktails that feature pickled ingredients, Pittsburgh Pickle Co. pickle juice drinking contests, merchandise such as pickled goods, and MORE!
See Q92.9 FM on Friday & Sunday at the event!  Play the Q Matching game for an entry chance at Train and Goo Goo Dolls concert tickets, August 7th at KeyBank Pavilion!  And see how you could get a Snyder Drivers T-Shirt!
On Friday, stop by and talk to Amazon Workforce professionals, grab cool Amazon items, and learn how you could be a part of Amazon!
On Sunday, register for a chance for you and a guest to be a part of the Tiki Ride with Debbie Wilde, sponsored by Cruisin' Tikis!
Visit Picklesburgh.com for all the pickled details!